Glassjacks FAQs
FAQ
What is a Glassware Storage Box - Glassjacks?
Glassware Storage Boxes (Glassjacks) are tough plastic boxes with internal dividers that seperate glassware. Our silver glassware storage boxes, also referred to as Glassjacks, pack, stack, store and transport your glassware safely. Glassjacks offer a comprehensive range of Glassware Storage Boxes with five different heights and a number of internal divider options with various numbers of cells. If you would like assistance selecting the correct size Glassjacks, please select our easy to use "Glass Measurement Guide".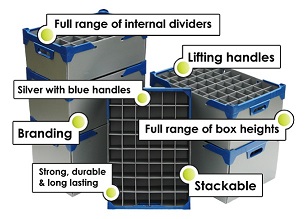 What size Glassjack do I need?
Have you tried using the easy to follow 'Glass Measurement Guide' on the website? If you are still experiencing problems, please email us with your glass details, we require the height and width of each glass (in mm) and how many glasses you have. Email: info@glassjacks.co.uk.

Can you specify a delivery date?
Please email us your order reference or requirements to: info@glassjacks.co.uk and we will provide you with a delivery date.
Can I receive my order before the weekend?
We try to despatch orders ASAP and normally within 2 to 3 working days. If you do have an urgent order we will endevour to meet your deadline.
I would like a quotation
For large orders, we can supply a quotation. Please email your glass details (height and width and how many of each glass type is required) to: info@glassjacks.co.uk.
VAT Receipts
If you require a VAT receipt please email us: info@glassjacks.co.uk to request one and we will email it to you.
Can we visit you?
We are an on line business and do not have a showroom or trade counter.
Assembly instructions?
Assembly instructions can be found on this website under 'Box Assembly'.
Can you supply a sample?
Sorry we do not supply samples. But our Glassjacks can be purchased individually.
Returns
Please send your returns to our office:
Glassjacks Ltd
29 Field View
Knightwood Park
Chandlers Ford
Hampshire
SO53 4LJ
Payment methods
97% of our customers shop on line. Here you will be provided with a number of different payment methods. Other methods of payment include bank transfer (BACS) or cheque (made payable to Glassjacks Ltd). Please email us: info@glassjacks.co.uk to indicate if you would like to pay by BACS and we will supply you with our bank details.
Office Address - Visits By Appointment Only